ONLINE CLASS OUTLINE
OUT NOW - INSTANT ACCESS UPON PAYMENT
The beauty of Agnes Rup's modern resin geode class is to push boundaries, feel inspired, try new colour combos and enlighten your resin journey. Watch as she teaches her hands-on process on resin pouring with her techniques and secrets that creates statement art, from a blank panel to the final master piece.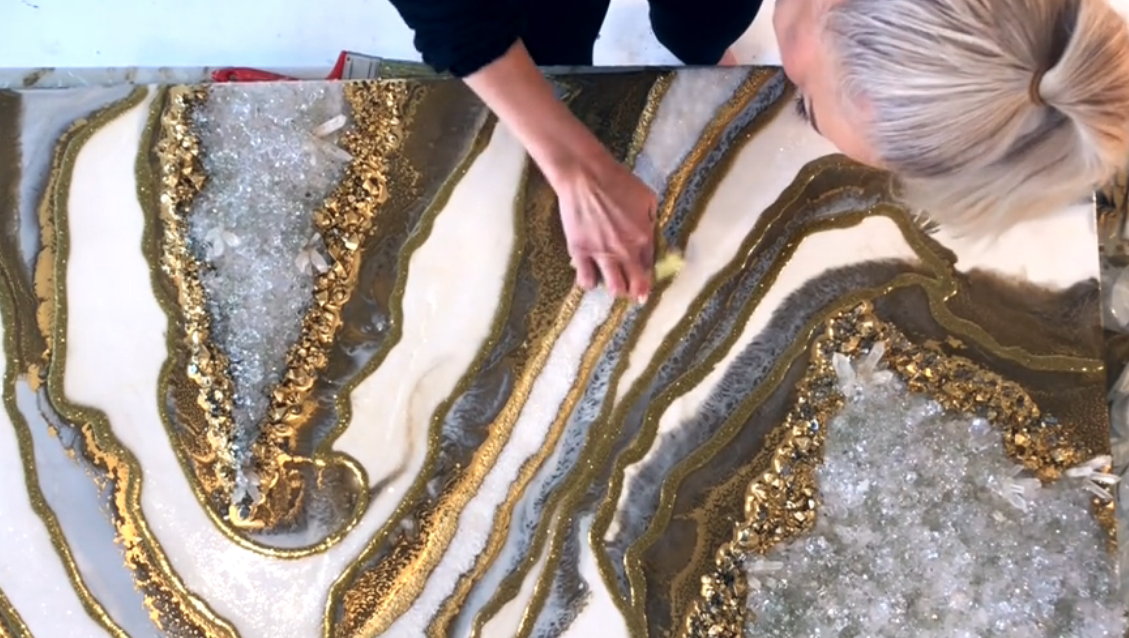 ALL SECRETS REVEALED
Make beautiful modern inspired geode art, get inspired through nature and the colours around you. I can't wait to share my knowledge, and see the beautiful results and creative minds - Agnes Rup

LESSON OUTLINE:
You will be a able to take part in Agnes Rup's first online class revealing her secrets to her students.
The idea behind this art is to capture the daylight with the shimmering gold and at night capture the sparkle with the glitter - demanding attention both day and night.

" Learn to Make a Modern White and Gold Geode on a 24" x 48" Birch Panel"

Average selling price of resin art is 1$ per square inch = PANEL IN COURSE: $1,150

- Video modules (access to class for 6 months)
- Learn any where at anytime- mobile friendly
- Push the limits of your resin art, learn techniques that capture beautiful results bringing your art to new heights
- Broken into easy to follow sections, start & stop when needed & re-play
- Links to all products used (OUT NOW) - Pre-release of my GOLD to students first with a discount

COURSE OUTLINE
- Prepping your panel- properly masking the edges and priming
- Mixing your resin with pigments, colours and glitter - easiest way to pouring on a larger canvas
- Tips on creating the look of a broken stone, only using white & gold as your main colours and how to mix the paints to achieve the results
- Secrets on what is add to the resin and when
- The stages of creating, when to stop and how many layers are needed
- Adding glitter - sounds simple but resin is tricky, glitter can take over your work
- Quartz clusters - when and how to add them for best results
- Texture points- How to get that beautiful sparkle that captures the eye
- Detailed paint brush lines - when to make them
- Creating depth- when to use the pen lines and layers
- Sanding and finishing your art by the last part, your signature.

This is not an over night projects and will take some time to complete, don't rush, enjoy the process and watch as it all comes together to a master piece.
The reason Agnes Rup's work looks different is her techniques that she will be revealing to you through this class. Secrets REVEALED to you.