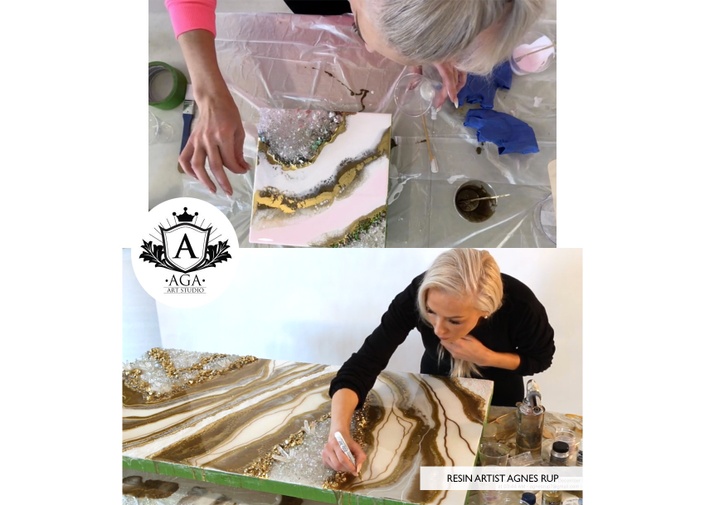 GEODE RESIN ART - ULTIMATE Learning Package ( 2 E-classes)
Push the limits by learning resin art, learn techniques that capture beautiful results bringing your art to new heights
Watch Promo
ONLINE CLASS OUTLINE
OUT NOW - INSTANT ACCESS UPON PAYMENT
Agnes Rup will guide you through this ultimate learning package, it starts you off with the basics of resin, a mini geode and then move on to her moderate to advanced class where she reveals her secrets to achieving her signature white and gold geode. You will receive a certificate of completion once you are finished, join our facebook community and share your work.
#agaartstudio
HOBBY OR EXTRA INCOME?
If you are planning on making extra money with this as a side business I highly recommend taking the bundle package so that you have full knowledge of resin.
I made all the mistakes so you can avoid them.
Resin art can be sold per square inch, a great starting rate is $0.75, this means you've done multiple layers and have used more than just one layer of resin.
This means a mini that is 12"x12" is sold for $108, as you sell more work you can slowly raise your price point.
TAKE A PEEK AT HER WORK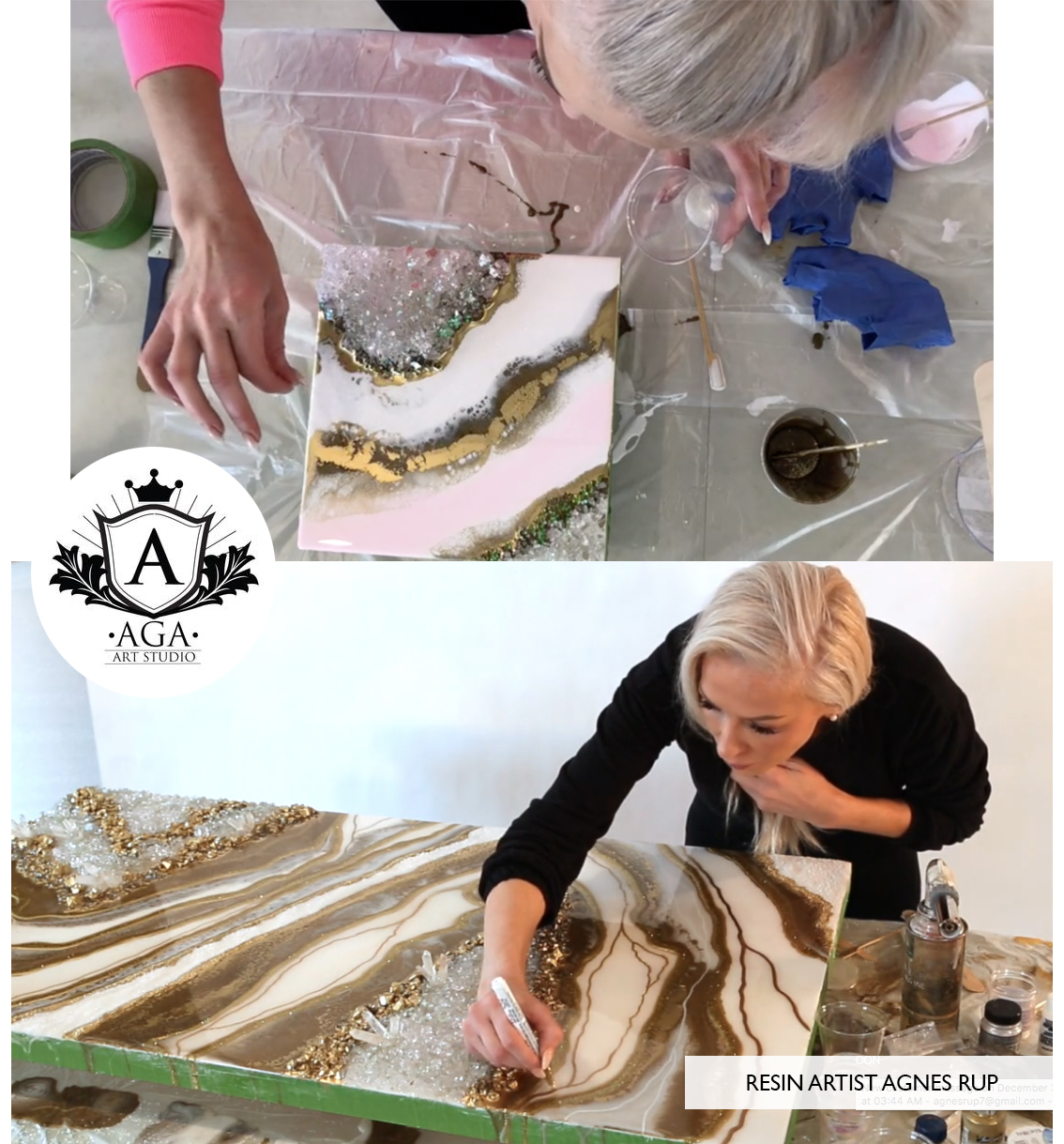 The beauty of Agnes Rup's modern resin geode class is to push boundaries, feel inspired, try new colour combos and enlighten your resin journey. Watch as she teaches her hands-on process on resin pouring with her techniques and secrets that creates statement art, from a blank panel to the final master pieces.
BASICS CLASS OUTLINE:
STARTING WITH RESIN
A BEGINNERS GUIDE
Taught by Agnes Rup, modern inspired resin geode artist
After great reviews about her Signature White and Gold Signature Geode Class, Agnes Rup want to share her resin knowledge with you.
"I know that anyone who starts with resin, won't be able to stop, its so addictive" - AGNES RUP
The first class is to get you started into the world of resin. Since resin can be tricky and it's not a cheap product, its best to learn and try avoiding expensive mistakes. In the "Starting with Resin" we will get you ready to move forward to bigger pieces of art and start working in layers. The "Signature White and Gold Geode" e-class is 5 days and dives deep into Agnes Rup's secrets, tricks and tips.
THE PINK MINI GEODE AGNES WILL BE MAKING IN THIS CLASS: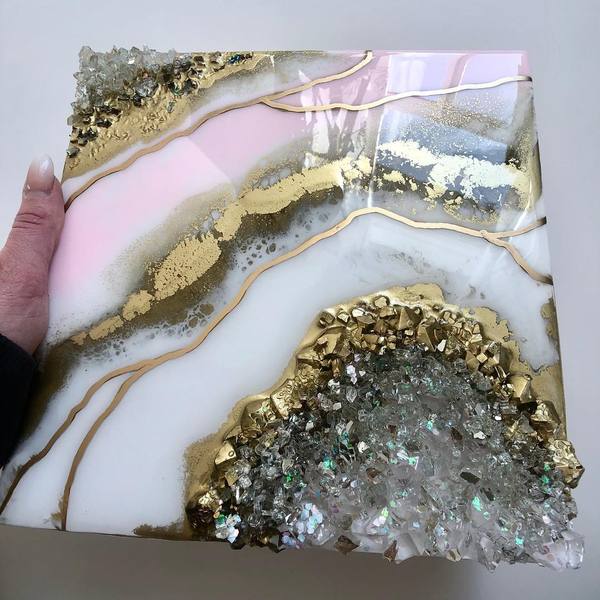 CLASS OUTLINE:

- Explaining the basics of resin, work time, proper ventilation and protection

- Explain equipment you will need to start your journey into resin
- Links to products needed for your class
2 DAY CLASS:
- Re-making of the "Baby Pink Nights" MINI Geode 12"x 12" or 8"x8"
- Easy to follow along
- Stop, pause and reply
ACCESS TO CLASS FOR 6 MONTHS+!
Resin is very fun, start small and work your way up once you have more confidence with using resin.
CLASS TWO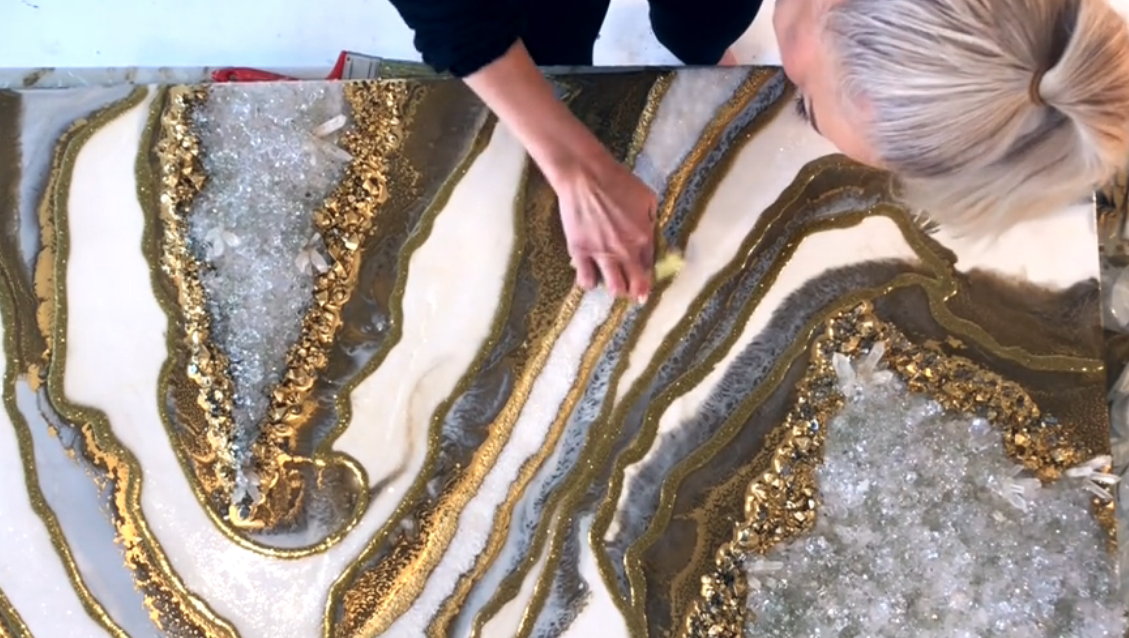 ALL SECRETS REVEALED
Make beautiful modern inspired geode art, get inspired through nature and the colours around you. I can't wait to share my knowledge, and see the beautiful results and creative minds - Agnes Rup

LESSON OUTLINE:
You will be a able to take part in Agnes Rup's first online class revealing her secrets to her students.
The idea behind this art is to capture the daylight with the shimmering gold and at night capture the sparkle with the glitter - demanding attention both day and night.

" Learn to Make a Modern White and Gold Geode on a 24" x 48" Birch Panel"

Average selling price of resin art is 1$ per square inch = PANEL IN COURSE: $1,150

WHAT WILL BE MADE IN E-CLASS:
CERTIFICATION OF COMPLETION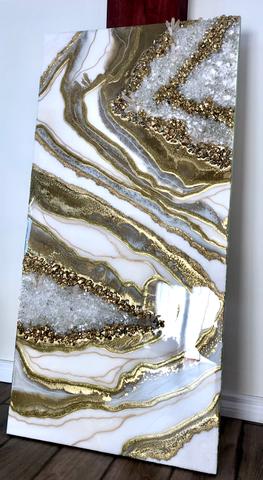 - Video modules (access to class for 6 months +)
- Learn any where at anytime- mobile friendly
- Push the limits of your resin art, learn techniques that capture beautiful results bringing your art to new heights
- Broken into easy to follow sections, start & stop when needed & re-play
- Links to all products used

- FIRST to get emailed about the back in stock of AGA ART STUDIO "Perfect Gold" and other pigments
COURSE OUTLINE
- Prepping your panel- properly masking the edges and priming
- Mixing your resin with pigments, colours and glitter - easiest way to pouring on a larger canvas
- Tips on creating the look of a broken stone, only using white & gold as your main colours and how to mix the paints to achieve the results
- Secrets on what is add to the resin and when
- The stages of creating, when to stop and how many layers are needed
- Adding glitter - sounds simple but resin is tricky, glitter can take over your work
- Quartz clusters - when and how to add them for best results
- Texture points- How to get that beautiful sparkle that captures the eye
- Detailed paint brush lines - when to make them
- Creating depth- when to use the pen lines and layers
- Sanding and finishing your art by the last part, your signature.

This is not an over night projects and will take some time to complete, don't rush, enjoy the process and watch as it all comes together to a master piece.
The reason Agnes Rup's work looks different is her techniques that she will be revealing to you through this class. Secrets REVEALED to you.
REVIEWS:
MORE THAN EXPECTED ☆☆☆☆☆
I cant believe she actually gave all her secrets out to us. It was so detailed and step by step. You CANT go wrong. Worth EVERY dollar spent. Honestly if you are undecided as to what course to take THIS IS THE ONE AND ONLY ONE YOU WILL EVER NEED. so happy I took this course :)
Excellent course ☆☆☆☆☆
I really like the course. The instructions and shoping list are very detailed. Agnes presented the course very clearly and professionally, each step was very understandable. The only problem after this course is not to copy her :) so so Big Yes for the course!
Outstanding course ☆☆☆☆☆
I have been searching for online classes for so long! This one right here was super straightforward, the steps were super easy to follow, overall, I highly recommend for anyone to take this course! Thank you for letting me complete a goal in my to-do list! Looking forward to more online courses ❤️
Absolutely amazing!! ☆☆☆☆☆
Worth my money and time!! This artist is brillant. I love her personality and the way she teaches and I cannot wait for more tutorials. I fell in love with this art and now I'm addicted And even though she's super busy, she always answer me back if I have any questions. Thank you again ❤
ARTIST Agnes Rup
MODERN INSPIRED RESIN ART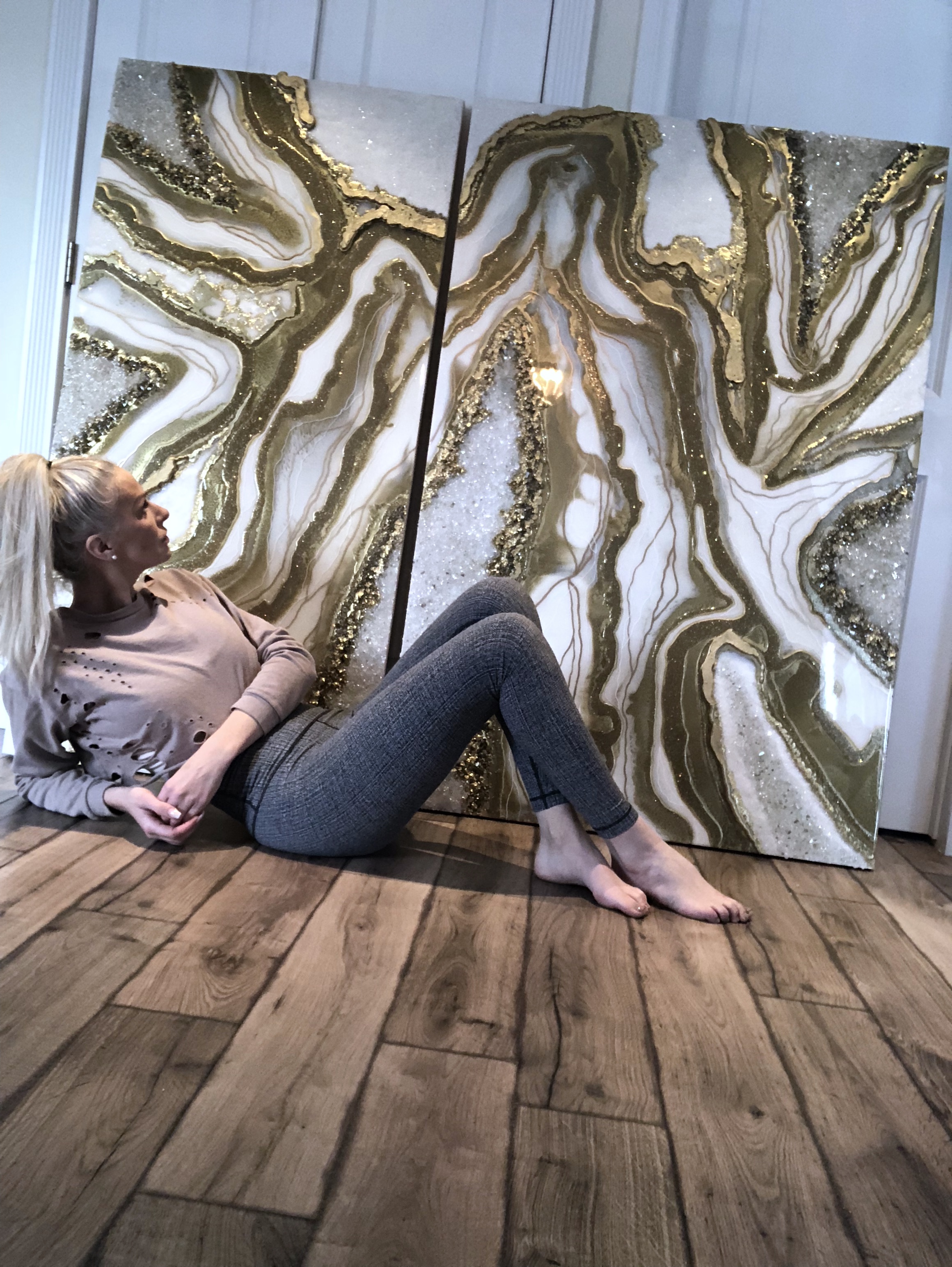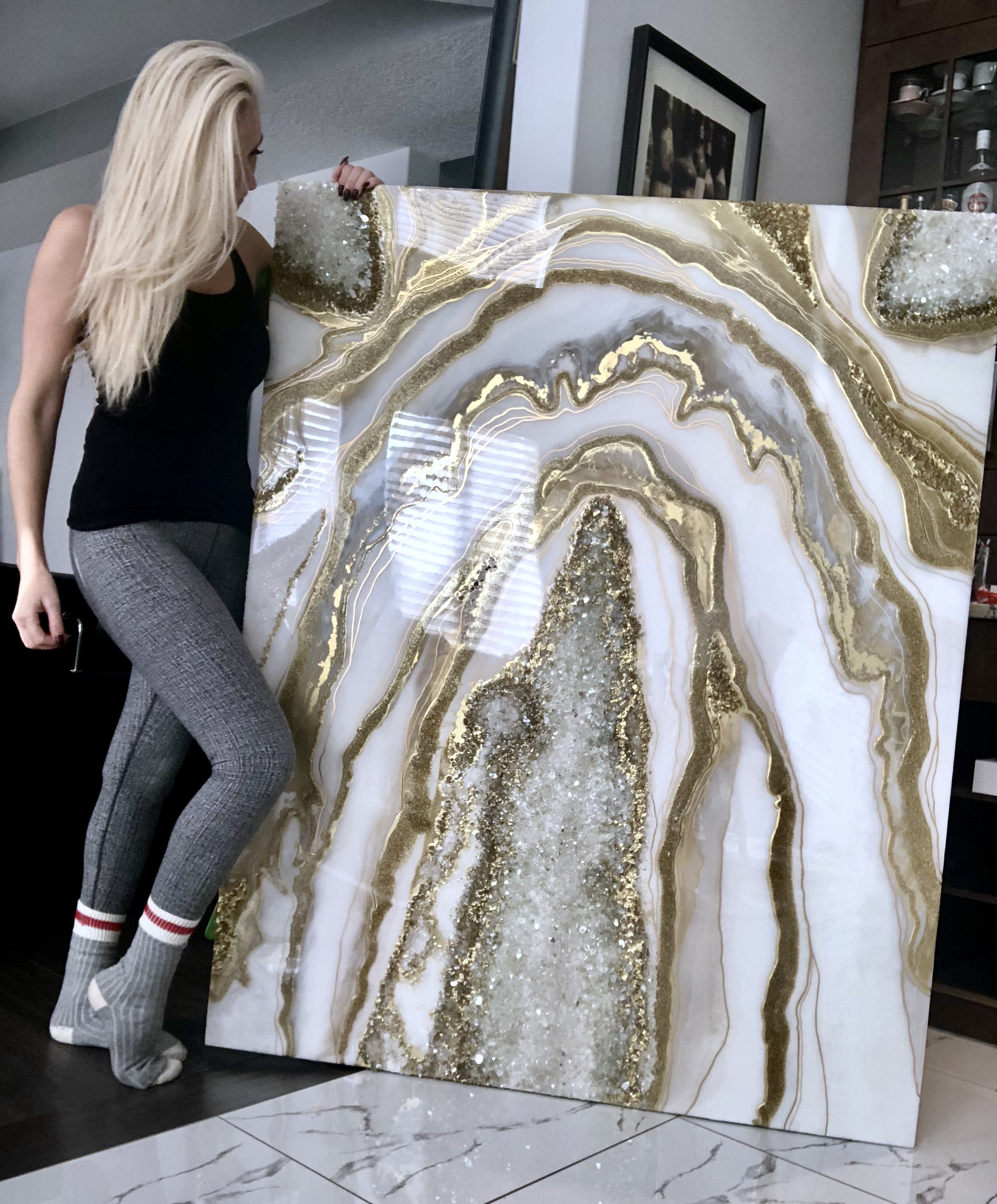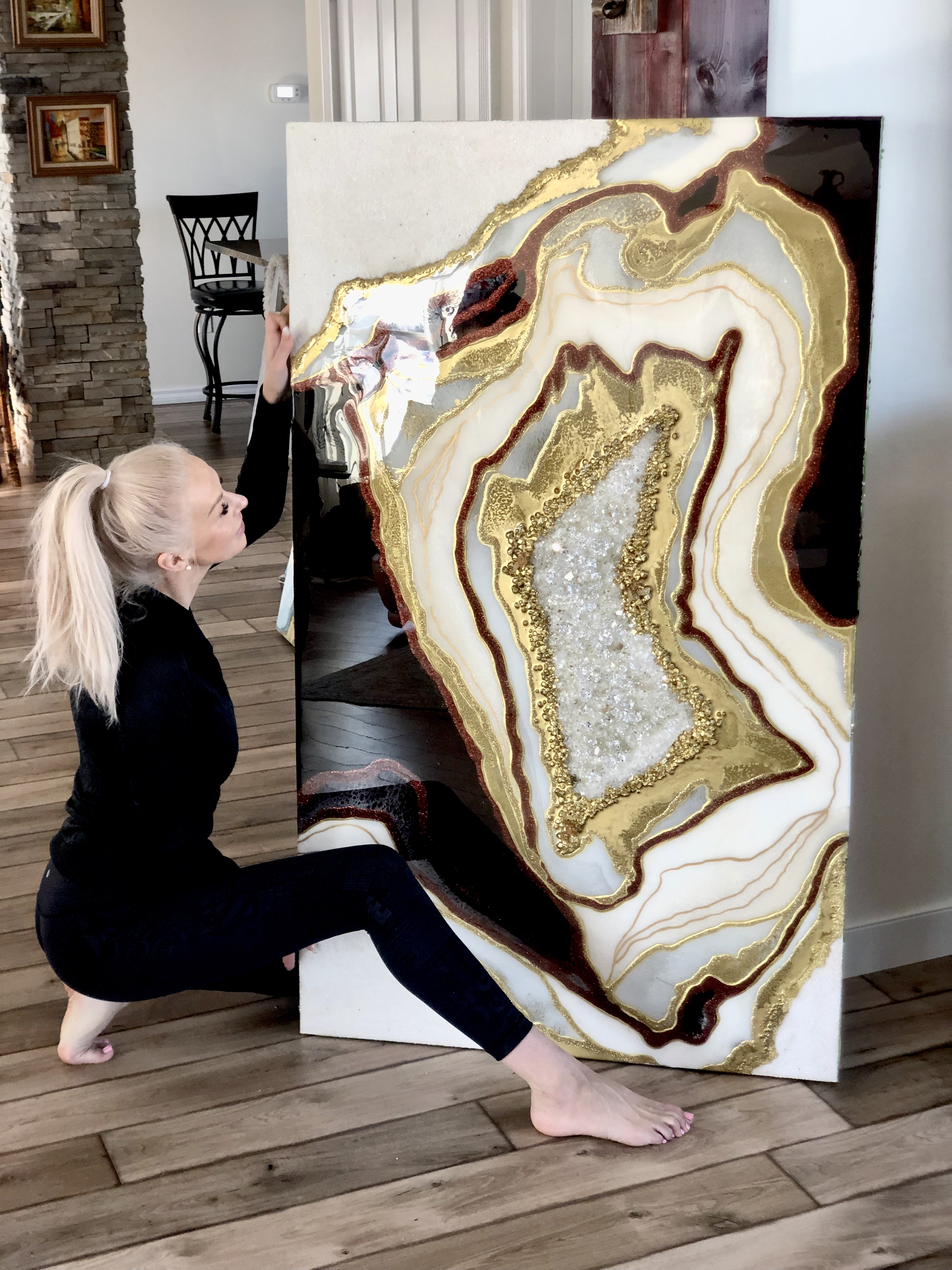 Your Instructor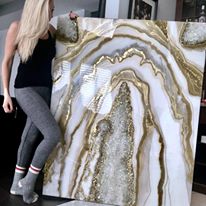 Agnes Rup is a Canadian based artist who works with resin to create modern inspired geode art. Her signature geode pieces are white and an eye capturing gold giving each piece a luxurious feel. The art demands attention with eye catching textures of glass that shimmers as you walk by. The art is made on gallery birch panels with raw wood edges, capturing natures beauty and the high shine of resin. Real quartz crystal points are inserted into her art for the healing qualities making her art have a higher purposes. Her objective is to capture the beauty of nature with art, making captivating pieces that warm the soul.

Course Curriculum
First Section
Available in days
days after you enroll
DAY TWO
Available in days
days after you enroll
DAY THREE
Available in days
days after you enroll
Courses Included with Purchase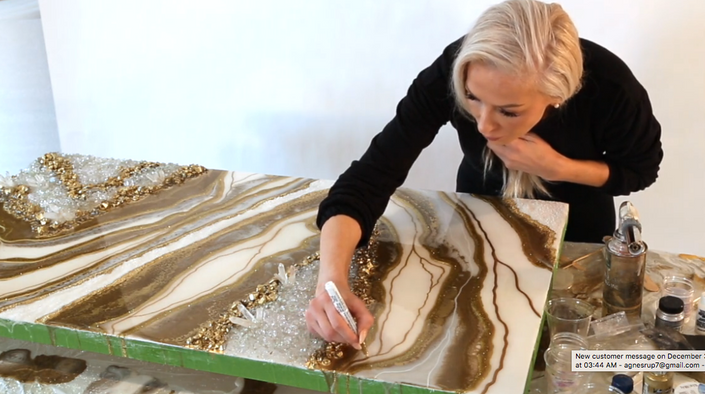 Signature White and Gold Geode Resin Class
Push the limits of your resin art, learn techniques that capture beautiful results bringing your art to new heights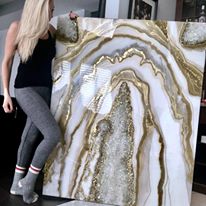 $199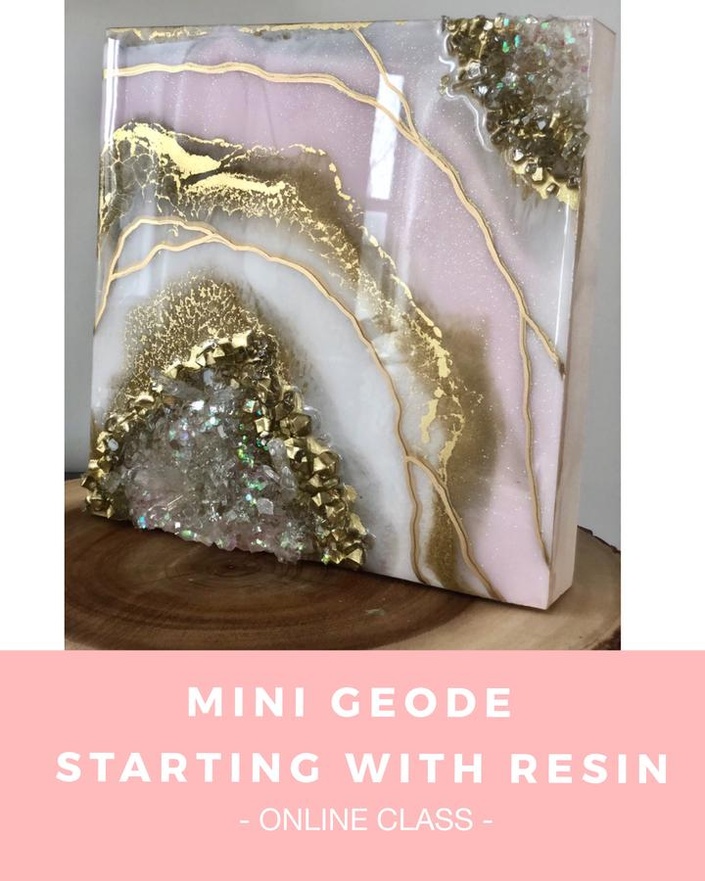 Starting With Resin (Beginners Guide)
Step by step instructions on how to work with RESIN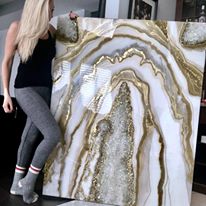 $99
Original Price: $298
Frequently Asked Questions
When does the course start and finish?
The course starts early February and it's yours to view as many times as you wish! It is a completely self-paced online course - you decide when you start and when you finish.
How long do I have access to the course?
After enrolling, you have unlimited access for 6 month or more to these courses - across any and all devices you own.
Where can I purchase products?
Most of the items are available through Amazon, Micheals or Just4youuk
Can I get these items in my country?
Most important thing to look for is see if you can get resin, or countertop epoxy. AGA Art Studio pigments will be available world-wide.